Welcome to the registration page for LabPhon17, the biennial conference of the Association for Laboratory Phonology.
LabPhon17 will be held July 6-8, 2020 at the University of British Columbia in Vancouver, BC in Canada. Workshops will be held on July 5 and 9.
Please read the following information before clicking on one of the registration links at the bottom of this page.
Registration fees and deadlines
On-line registration opens on Feb 11, 2020 and will be available until June 26, after which date only onsite registration will be available. Early Bird registration will close on May 31. (All changes will be implemented at 23:59 Niue time, which in May and June wil be at the following times on the next day: 6:59 in New York, 11:59 in London, 22:59 in Wellington)
| | Early Bird (until May 31) | Regular (June 1-26) | Onsite |
| --- | --- | --- | --- |
| ALP Member (Full) | US$350 | US$500 | US$600 |
| ALP Member (Student) | US$150 | US$200 | US$250 |
| Non-Member (Full) | US$560 | US$710 | US$810 |
| Non-Member (Student) | US$230 | US$280 | US$330 |
| Teleconferencing (members only) | US$35 | US$35 | US$35 |
Notes:
All prices are in US Dollars.
Members must have a membership that is current at July 6 2020. To register for the conference as a member you will need to login to the ALP system, so that your membership status can be confirmed. If your membership has expired or will expire before July 6 2020, then you will be able to renew your membership as part of the registration process. The renewal will be from the date of registration or the date at which your membership expires, whichever is later.
Registration fees for non-members include a two-year membership of ALP, which will be current from the date of registration. It is not possible to register for LabPhon conferences without being or becoming a member of the Association.
Students - please note that student members are required to provide contact details for their advisor, so that their student status can be confirmed. For lapsed student members or those who are joining ALP as student members through the registration process, you will need to complete the relevant advisor contact fields in the registration pages. Your registration will proceed (so that you can benefit from, e.g. Early Bird rates), but if your student status cannot be confirmed then you may be asked for additional payments.
​The registration fee includes access to opening reception, main presentation sessions, invited presentations, poster sessions, discussion sessions. It covers attendance at the satellite workshops. It also includes lunches and coffee breaks on July 6, 7, and 8.
The banquet is NOT included in the registration fee (see below).
The teleconferencing option allows members to watch the oral sessions in real time and ask questions (probably through text) during the actual question block. It also allows access to archived videos of oral presentations and discussions. Note that no access is provided for poster sessions. This option is only available to full or student members who have a membership current to at least July 6 2020. This option does NOT include the satellite workshops before and after the conference.
Information about and booking links for accommodation for LabPhon 17 are available at https://labphon.org/labphon17/accommodation-0.
Letters of invitation: A letter of invitation is issued solely for the purpose of assisting participants with visa applications and/or to obtain funding for their attendance at the conference. Such a letter does not imply any financial obligation on the part of the conference organizers. If you require a letter of invitation, please contact the LabPhon 17 Organizing Committee at labphon.17@ubc.ca as soon as possible; such letters will not be sent automatically. Please note that your registration must be complete and paid in full before an invitation letter will be issued.
Social Functions
Opening reception: The opening reception will be on July 5, 5:00-7:00pm. This is included in the general registration fee for delegates. Additional tickets (US$30 each) can be purchased through the online registration form for accompanying persons.
Banquet: The conference banquet will be on July 7, 6:00-10:00pm. This is NOT included in the registration fee. Tickets (US$50 each) need to be purchased through the online registration form for anyone wishing to attend (both regular delegates and accompanying persons).
Workshops
Workshops will be held on 5 July and on 9 July, as set out below (and see also https://labphon.org/labphon17/satellite-events for details). There is no additional charge for workshop attendance. When you register, please indicate on the registration form the workshops you plan to attend. This is to help the organisers in their planning.
Day & Time
Workshops
July 5, 9:00-12:30

Cue weighting: Thinking outside the box
Word-specific phenomena in the realization of vowel categories: Methodological and theoretical perspectives

July 5, 1:30-5:00

Usage-based approaches to phonological change
Forms and representations in phonology

July 9, 9:00-12:30

Pedagogical approaches to Laboratory Phonology
Situating phonological contrast within the production-perception loop

July 9, 1:30-5:00

Advancing transparency and reproducibility in Laboratory Phonology
Neural network models for articulatory gestures
Cancellations
If you need to cancel your registration, the following policy applies. (1) If you have purchased a LabPhon membership as part of your registration, you will have the option to maintain your membership (good for two years from the date of purchase) or to have it fully refunded. (2) For the part of your registration that is solely for attending LabPhon 17 itself, you will receive a full refund if you cancel on or before May 6 2020; you will receive a 50% refund if you cancel between May 7 and June 5, 2020, inclusive; and there will be no refunds for cancelling on or after June 6, 2020. To cancel your registration, please contact labphon.17@ubc.ca
T-shirts
The conference organisers also invite you to purchase conference t-shirts (design and close-up of logo shown below). These will ONLY be available by online purchase through the registration pages, and ONLY before the end of the Early Bird registration period (up to 31 May). T-shirts will not be available for purchase on-site. These are uni-sex black t-shirts with full-colour logo on left upper chest.They are available in seven sizes from XS to XXXL (details on the registration pages) and are US$20 each.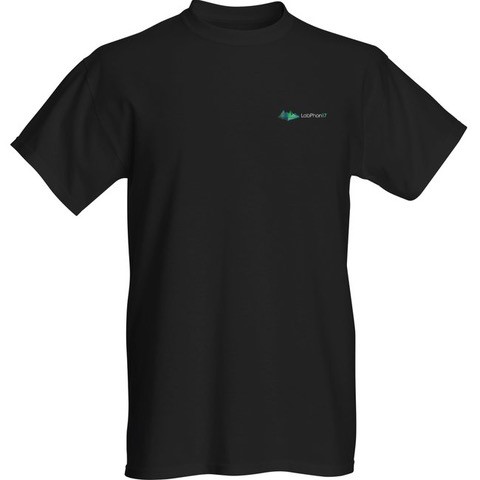 Proceed to registration
Click one of the link buttons below, depending on whether or not you are (or have been) a member. These links take you to a registration form. When you submit the form you will be redirected to a PayPal page to complete the payment. You may use a credit card for payment, i.e., you do not need to have a PayPal account.
Note that if you click on the member link, you will be invited to login with your membership ID and password (if you are not already logged in). The registration portal will check your membership status, and if your membership has lapsed or lapses before July 6, then your registration will be set to include a renewal of your membership.
If you have any questions about the registration process, please contact the conference organisers at labphon.17@ubc.ca